Here's an interesting one that I acquired recently for the collection — the so-called "Köln Forgery".
From 1900 to 1922, Germany issued a series of stamps known as the Germania series. The stamps depict
Germania
, the female personification of Germany.
There were, no doubt, numerous forgeries of these stamps during the period. These forgeries were not usually so notable as to warrant a specific mention by-name in Michel. There are exceptions, however, and this is one — MiNr. 147 PFä, a.k.a., the Köln Forgery or Cologne Postal Forgery.
Between January 1920 and Aril 1921, Germany issued a set of Germania stamps consisting of 14 values, MiNr. 140-153 (though Michel catalogs a total of 29 variants). The stamps were watermarked with a lozenge design, comb perforated 14:14 1/4, and printed via typography.
In November 1921, a counterfeit of the 60-Pfennig value came to the attention of postal authorities in Köln (Cologne). It was immediately recognized as a forgery due to the poor quality printing, and the authorities quickly tracked down the source. Reports from the time state that approximately 90,000 copies of the stamp were seized from the counterfeiters.
The forgeries are easy to distinguish from the original. Most noticeable is the poor overall quality. The printing is poor, and is lithography instead of typography. The paper is also of poor quality, and is brown in color and without watermark. The perforation is line 13, instead of comb 14:14 1/4.
Original (left) and forgery (right):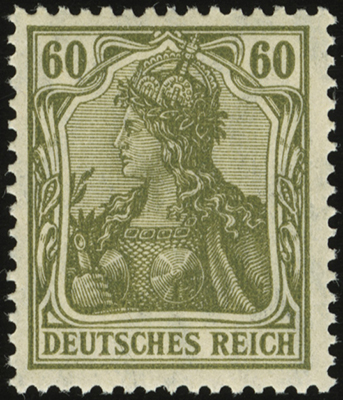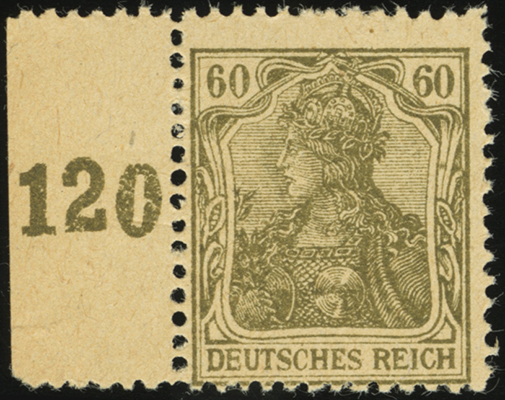 Though the seized sheets were supposed to remain with the police, there were apparently numerous sheets delivered to collectors, as multiples are known. There are also used copies that did pass through the postal system without being recognized as forgeries.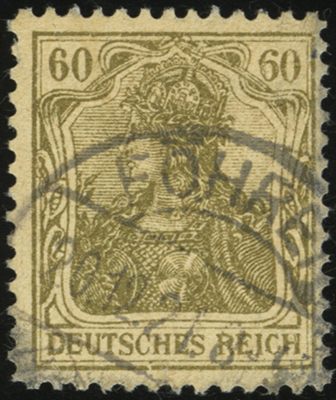 As of 2019, Michel catalogs the Köln Forgery at 180€ (MH) / 500€ (MNH) / 2,500€ (Used), though as usual, they typically sell for a fraction of those prices. This is considerably more than the 0.20€ / 1€ / 2€ value of the genuine MiNr. 147.